Mandir Activities
Activity Index
March
Maha Shivaratree - Each year for the Maha Shivaratree, the Shiv Shakti Sangh welcomes pilgrims going to and from the scared Lake, Gango Talao with refreshments and food. It also provides a resting place for the pilgrims at night. Shivala members also make a procession each year to go on pilgrimage to Ganga Talao to fetch the sacred water to offer to Lord Shiva on his night. On the day of Maha Shivaratree, there is the 'Char Pahar ke Pooja'. For the whole night, vigil is kept and the shivalingum is worshipped every 3 hours.

Holi- Holi Mahotsaw is celebrated

March-April
Vasanthik Nawratree - On the occassion of Ram Nawmi and Vasanthik Nawratree, 9 days of Pooja is organized.

Ram Nawmi - Birthday of Lord Rama is celebrated with baby craddle to swing little baby rama on his birth.

Hanuman Jayanti - Special prayers are made early in the morning to celebrate the birth of Lord Hanuman.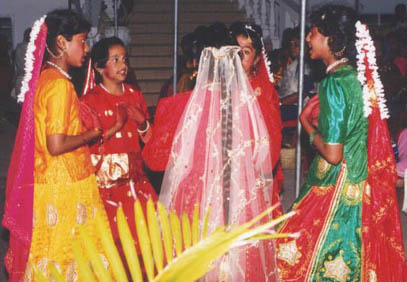 Young girls performing dance for Nawratree
August
Krishna Jayanti -
September - October
Durga Pooja - On the occasion of the Durga Nawmi, 9 days of Pooja is organized.
Deepavali -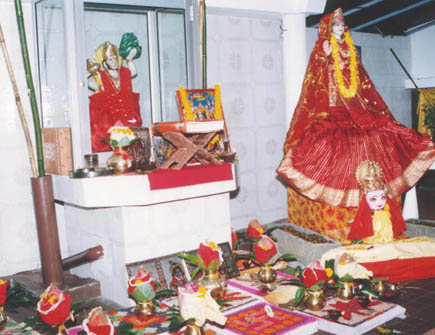 Special 9-day pooja for the Durga Nawmi
Shivaratree - The shivala celebrates the Shivaratree (night of Lord Shiva). The Shivaratree occurs on the 15th day of the dark fortnight. Special worship of the Shiva Lingum is made on this day.

SatyaNarayana Swami ki Katha - Every Poornamasi (Full Moon Days)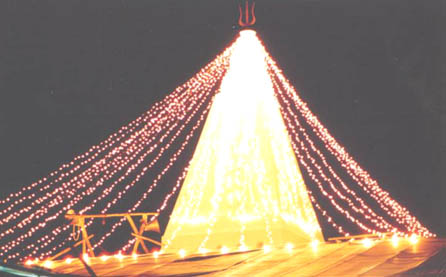 Top of Mandir fully decorated on special occasions
Rudra (Shiv) Abhishek - Every Monday from 6:00p.m to 7:00p.m, special worship of the Shiva Lingum is made

Hindi Classes for children- Free Hindi Classes are offered to Children every Mondays and Fridays from 3:45p.m - 5:15p.m in the little hall below the shivala.

Ramayana Paath - Reading and Explanation, every Friday from 7:00p.m to 8:00p.m

Shiv Maha Puran ki Katha

Ram Katha

Shri Bhagwat Maha Puran ki Katha

Karwa Chaut : Ladies pray for the well being of their husbands. Ladies fast the whole day that day and break their fast only after having a glimpse of the moon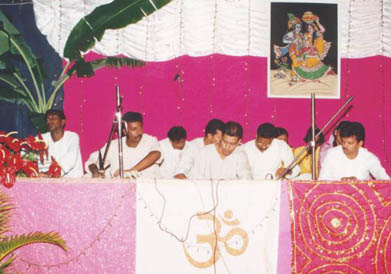 Our kirtan group enhances all our celebrations with bhajans
Site concept and design by
Nilesh Dosooye
Copyright© 1999 - 2019, Shiv Shakti Mandir, Mauritius